River Murray Flood Update: Fortunately Roonka's camping grounds and buildings weren't impacted by the high river event. All activities have resumed and all facilities are now available. Follow us on Facebook to stay up to date with the latest news and photos.
We can't wait to welcome you to Roonka!
To help prepare for your river adventure and ensure that you and all other guests have the best time possible, please take a moment to familiarise yourself (and those in your travelling party) with the following information, including the site's T&Cs and guest expectations.
DRINKING WATER
Rainwater is in limited supply and available for drinking purposes only from selected (clearly labelled) tanks and in the kitchens. If in doubt, please check with your Camp Host.
All other taps, including in bathrooms, supply unfiltered river water that not suitable for consumption.
Due to the limited supply (and varying taste and colour) of rainwater, some guests prefer to bring their own drinking water.
FRUIT FLY EXCLUSION ZONE
Roonka is located within the Riverland Fruit Fly Exclusion Zone. Currently only certain fruit and vegetables may be brought into the area. Random roadside checks may occur. Please call 1300 666 010 or CLICK HERE for further information.
DOGS WELCOME
Small to medium dogs are welcome, and must be kept on lead at all times for their safety and the safety of others.
Pets are not permitted indoors, including bell tents, kitchens and bunkrooms.
NO JET SKIS
For everyone's enjoyment at our tranquil retreat, we do not allow jet skis to launch from our property.
CAMPFIRES – AND FIRE DANGER SEASON
Outside fire danger season (generally May to November), campfires are permitted within the three designated areas. Enjoy a campfire on us with wood provided for the communal fire circles!
On days of Catastrophic fire danger Roonka will close to keep you and your group safe. On days of total fire ban, your Camp Host will advise you on what stoves/cooking facilities may be used and where they may be set up.
OUR ENVIRONMENT
Please be aware of our uneven terrain, be kind to our native plants and animals, help us protect the environment, and conserve our resources.
During the warmer months, be aware that snakes may be hiding in the bushes and under rocks. Please take care and wear shoes at all times.
BYO EVERYTHING!
Bed linen is not included in your accommodation hire or camping fee.
There are no food, drink or fishing supplies available for purchase on site, so please come prepared. There's a 24 Seven Roadhouse about a 5-minute drive away that offers hot coffee, cooked meals and all your essentials – and heaps more to explore in the nearby townships of Blanchetown, Morgan and Waikerie.
PLAN YOUR ADVENTURE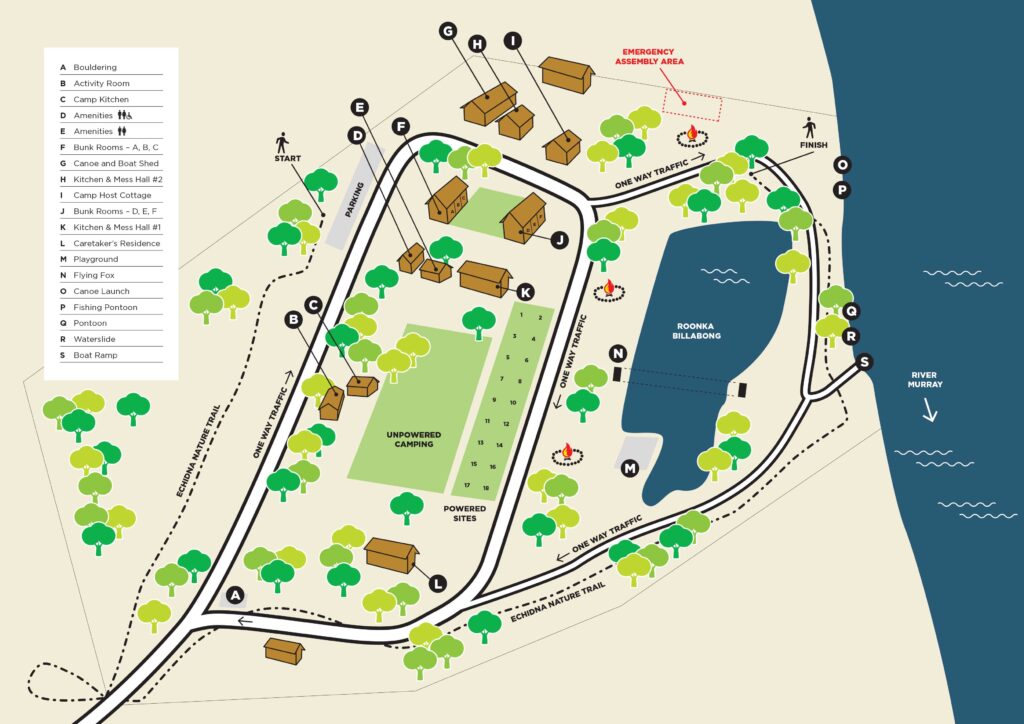 WHEN YOU GET HERE
Check in from 2pm at the Camp Host Cottage (third building on the left) to provide your completed guest list and participation agreement(s).
Your Camp Host is staying onsite and is here to help – please phone 08 8540 5104 for assistance.
PARKING AND SPEED LIMIT
The speed limit onsite is 10km/h.
A car park is provided to minimise dust and congestion around campsites and bunkhouses. After unloading, please move your vehicle to the car park, behind the ABC bunkhouse on the entry road.
If unloading boats, please move your vehicle as soon as possible to allow access for others.
ASSIGNED CAMPING SITES AND NOISE
Please only camp in your designated camping area(s) and show courtesy to your fellow campers by adhering to the 10:30pm noise curfew.
PRIVATE AREAS
Please keep within the fenced boundaries of the property so as not to trespass on neighbouring properties and respect the privacy of the Camp Host Cottage and Caretaker's residence.
The two large sheds on northern and southern perimeters are also off limits for guest access.
SMOKING / VAPING AND ALCOHOL CONSUMPTION
As a family-friendly campsite we are committed to setting a healthy and positive example for young people.
It is an expectation that you will drink responsibly and will not attempt any onsite activities under the influence.
Smoking and vaping must occur well away from other guests, with butts disposed of considerately.
Smoking and vaping is prohibited indoors.
RUBBISH
Thank you for leaving the site as you found it, with rubbish placed in the provided bins.
Please assist our recycling efforts by placing bottles (caps off), cans, paper and cardboard in the wire baskets.
BUILDINGS ACCESS
Toilet and shower blocks are shared by all guests so please leave them tidy and be mindful of the length of time you spend in them.
Access to Kitchen 1 is available only to a group who has booked this facility (additional fee applies)
Kitchen 2 is reserved for the shared use of Bunkhouse guests only.
Camp kitchen and adjacent Recreation Room may be enjoyed by all guests.
THERE IS NO LIFEGUARD ON DUTY
Children must be under direct adult supervision at all times.
All recreational activities including paddling, swimming and fishing are undertaken solely at the risk of the participant.
Life jackets must be worn by EVERYONE in or on the water (provided to guests at no charge).
EMERGENCY AND FIRST AID
On hearing a continuing alarm horn, please immediately go to the Emergency Assembly Area on the northern side of the campsite.
If the fire alarm sounds in your bunkhouse or kitchen, please leave immediately and await instruction.
In the event of an injury, guests are responsible for their own treatment, however injuries of a significant nature (requiring external care or follow up) need to be reported immediately to the Camp Host.
BEFORE DEPARTURE
Please find your Camp Host to complete check-out procedure. Check out is 12pm.
USEFUL PHONE NUMBERS:
Onsite assistance: 08 8540 5104
Waikerie Public Hospital: 08 8541 0555
Blanchetown Police: 08 8540 5013
USEFUL INFO:
While Roonka runs on 'river time' there are just a few important times to note:
Check in: 2pm
Check out: 12pm
Noise curfew: 10.30pm
By making a booking, you have agreed to the site's terms and conditions: www.roonka.org.au/terms
You must ensure at all times that your travelling party complies with these terms and conditions and agree that any breach of these terms and conditions by your party will constitute a breach by you.
THERE IS NO LIFEGUARD ON DUTY
Children must be under direct adult supervision at all times.
All recreational activities including paddling, swimming and fishing are undertaken solely at the risk of the participant.
Life jackets must be worn by EVERYONE in or on the water (provided to guests at no charge).